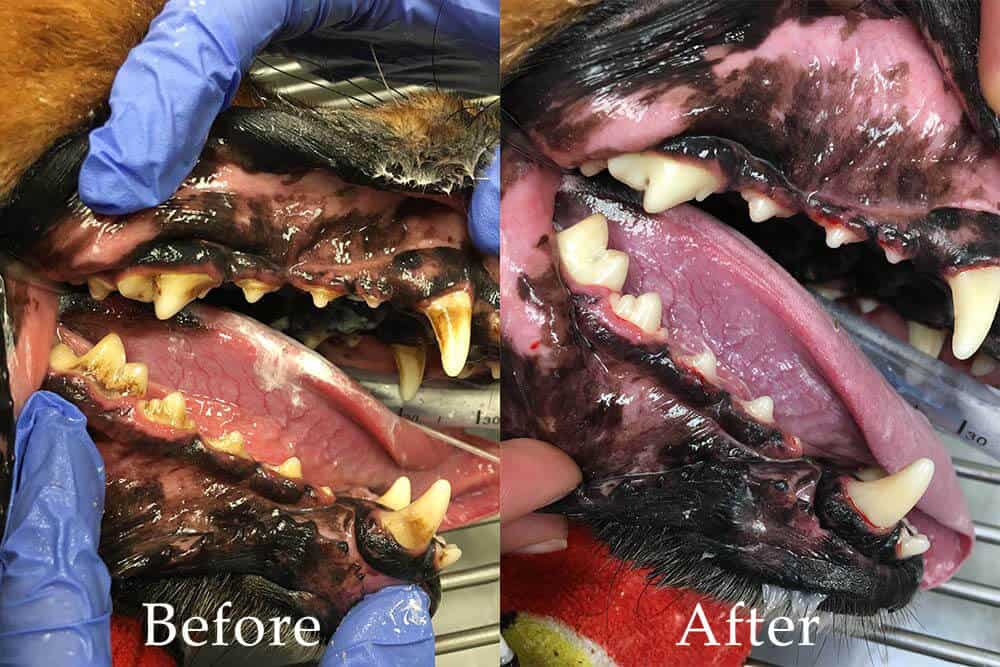 Your pet's dental health has a direct impact on their overall health. Poor dental hygiene can lead to conditions like bad breath, yellow or discolored teeth, red and swollen gums, loose teeth, or pain while eating or playing with toys. Left untreated, these symptoms can result in even more serious conditions, including periodontal disease.
Periodontal Disease in Pets
Periodontal disease occurs when bacteria from your pet's teeth causes an infection that spreads to their gums, which can eventually affect the internal organs. Periodontal disease is the most common condition seen by veterinarians, and it affects 70-85% of pets over the age of two. However, this disease is entirely preventable with routine professional care from a veterinarian and at-home care.
Dental Examinations and Cleanings
In order to perform dental exams, teeth cleanings, and other necessary dental procedures, we require that your pet undergo anesthesia.
To reduce the risks associated with anesthesia, we follow strict veterinary protocols to carefully monitor and assess your pet's condition at all times. We also perform pre-surgical blood work prior to placing your pet under anesthesia.
You can expect the following during your pet's dental appointment:
We take digital radiographs (x-rays) [link to Diagnostics and Imagery page] for an unobstructed view of your pet's entire mouth.
We carefully examine your pet's teeth and gums to check for any dental problems, such as gingivitis, periodontitis, or periodontal disease.
We polish and scale your pet's teeth.
We chart your pet's teeth to note current conditions and future changes.
We monitor your pet's condition continuously using advanced diagnostic equipment.
If we encounter any dental conditions or evidence of periodontal disease, your veterinarian will recommend an advanced dental treatment plan for your pet.
Please note, depending on the dental procedure, we may recommend and prescribe medications, including antibiotics and pain medications. Call (847) 634-9250 to schedule a pet dental appointment today.
At-Home Pet Dental Care
Properly caring for your pet's teeth begins with you. We recommend the following at-home care:
Brush your pet's teeth at least once a day using pet toothpaste to prevent plaque and tartar build up.
Only serve your pet dry food, and ask your veterinarian if your pet would benefit from specially formulated tartar-control foods.
Give your pet dental treats, chews, and toys that help clean and protect their teeth.