Pet Therapy at
Lincolnshire Animal Hospital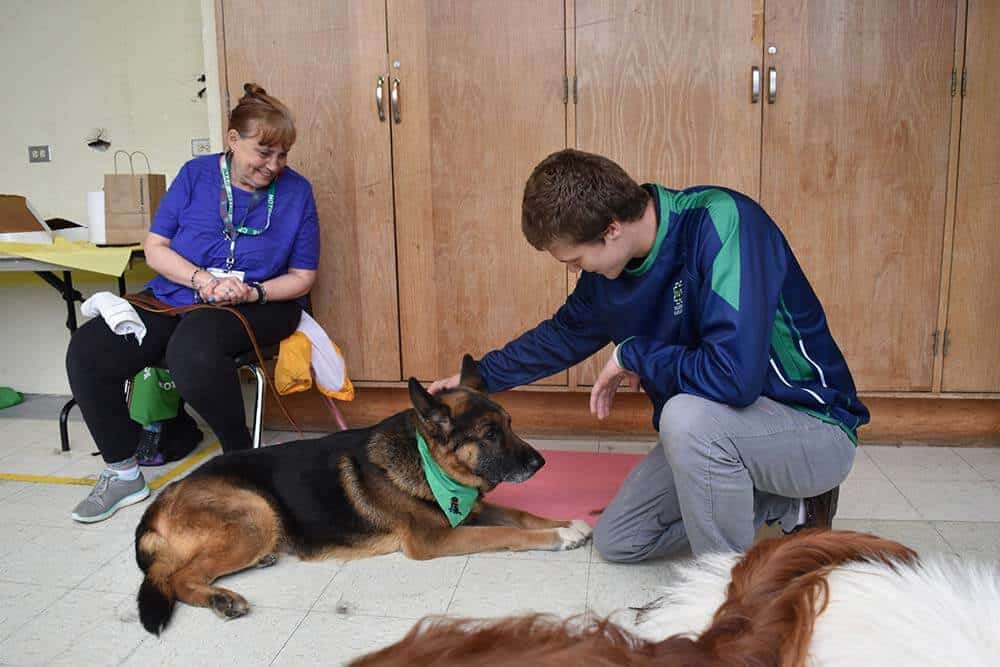 A small group of hospital staff and the pets established The Lincolnshire Animal Hospital Pet Therapy Group (LAHPTG) nearly three decades ago. It was one of the first pet therapy groups in the country. LAHPTG has since grown to include more than 33 handler/dog teams. The group has also received several awards and has been recognized in newspapers, on television, and by the American Kennel Club.
Pet Therapy Overview
Also known as animal-assisted therapy, pet therapy uses dogs and other animals to help individuals heal and cope with various health and mental conditions.
In most cases, a professional handler or volunteer (likely the pet's owner) brings the animal to meet with an assigned person or group. During the meeting, the animal and handler will operate according to instructions or goals outlined by a therapist, doctor, or other authorized individual to provide comfort, affection, and companionship through guided interaction.
Pet therapy has been scientifically proven to produce numerous mental and physical benefits, including:
Reduced blood pressure and stress
Increased mental stimulation
Increased self-confidence
Increased physical activity
Our Pet Therapy Program
The Lincolnshire Animal Hospital Pet Therapy Group (LAHPTG) serves those in need, including facilities for the mentally and physically disabled, schools for children with autism, and hospitals and nursing homes. The group has also been called upon to make private visits to individuals who are homebound or in hospice care.
Get Involved
LAHPTG attempts to schedule five-to-six visits each month (although times can vary based on availability). All morning and afternoon visits end by 3 p.m. Weekday evening visits begin at 6:45 p.m. and end no later than 8 p.m. While volunteers aren't expected to attend all visits, we do require sign-up for a minimum of 10 outings each year, and we encourage participation beyond this amount by all who are interested.
In order to qualify, all dogs and handlers must pass a test administered by the group director that includes simple obedience tasks, tolerance of medical equipment, general friendliness, and the presence of an outgoing nature and compatibility with people and other dogs. While visiting, all handlers and their dogs will be covered by insurance.
For more information about participating in the group or utilizing our services, please contact Marilyn Putz, Therapy Pet Group Director at (847) 433-3439 or email inquiries to FEPMGP@aol.com.