Veterinarian
Dr. Patrick Emmelot
Dr. Patrick Emmelot grew up locally in Rolling Meadows and graduated from the University of Illinois where he studied Animal Science in undergrad and then earned his DVM at The College of Veterinary Medicine in 1992. He practiced at Park Ridge Animal Hospital and Palatine Animal Hospital before landing at Lincolnshire Animal Hospital in 1999, at which time he and Dr. Stuart Clarke took ownership of the clinic. Outside of work, spending time with his family is a priority, including their several dogs and cats.
Dr. Jennifer Sutkay
Dr. Jennifer Sutkay is a native to our community, growing up locally in Long Grove. While attending Stevenson High School, Jennifer started working at a local animal hospital. She started as a kennel assistant, but quickly learned the ropes and was trained as an assistant. Shortly after being immersed into veterinary medicine, she decided her goal was to become a veterinarian herself. Dr. Sutkay obtained her Bachelors in Biology from the University of Illinois at Chicago. In 2010 she received her Doctorate of Veterinary Medicine from Ross University, where she graduated with highest honors. She was awarded the Pfizer Small Animal Proficiency Award in 2008.
Dr. Sutkay came to Lincolnshire Animal Hospital in 2014 and joined Dr. Emmelot as an owner in 2021. She enjoys all aspects of veterinary medicine, but takes a special interest in dermatology, which is likely a result of having had an English Bulldog. She likes promoting preventative medicine, where she can try to help pets and their owners avoid problems before they occur.
Dr. Sutkay married a fellow veterinarian, Dr. William Sutkay, in 2010 and have two beautiful daughters. When Jennifer is not seeing patients at Lincolnshire Animal Hospital, she enjoys running, biking, canoeing, and has started dabbling in furniture restoration.
Dr. Julie DiFuccia
Dr. Julie DiFuccia is a 2004 Univeristy of Wisconsin grad, who also went to Madison for undergrad. Being from Wisconsin, she is also a Packers fan, but is allowed to work here anyway. She has been with Lincolnshire Animal Hospital since 2005 and considers the clinic to be home. Dr. DiFuccia enjoys being a general practitioner because it has allowed her to develop wonderful relationships with her patients over the years and do her best to keep them happy and healthy. Maintaining quality of life is one of the main goals for both her patients and their families. She loves to perform surgeries, but enjoys all aspects of medicine as well. When she is not here at the clinic, she and her husband are raising their two sons, one daughter, and two adorable, but naughty terriers. When she gets free time, Dr. DiFuccia loves to travel, especially to places where she can hike or snorkel!
Dr. Kelly Rasch
Dr. Kelly Rasch was born and raised in Chicago and attended the University of Illinois in Champaign/Urbana for both undergraduate studies (Biology) and veterinary school. Go Illini! She graduated from vet school with honors in 1990 and worked at a small animal hospital in Northfield for two years, then as an emergency/critical care doctor for sixteen years. She has been working at Lincolnshire Animal Hospital since 2009.
Dr. Rasch recognizes the importance of the human-animal bond. She is happy to be able to foster this bond by providing the medical care that is needed to keep pets happy and healthy and is always inspired by the profound impact that loving, furry family members can have on our lives. Her professional interests include endocrinology, cardiology, ophthalmology, and emergency medicine.
Her free time is spent with her husband, two daughters, several super cute dogs, and one mischievous cat. Dr. Rasch enjoys hiking, cooking, going to concerts, and watching the Cubs beat the White Sox (sorry Dr. Emmelot!)
Dr. Erin Gray
Dr. Erin Gray was raised in Cleveland, Ohio, and grew up as an avid Buckeyes fan. She earned her undergraduate degree in Animal Sciences in 2009 and her DVM in 2013 from The Ohio State University. She spent her first years out of veterinary school at a small animal general practice in Reno, Nevada where she developed interest in internal medicine, surgery, and working to enrich the relationships that humans have with their animal companions. She joined Lincolnshire Animal Hospital in 2017 when she moved to Chicago with her yellow lab, Lilli. Dr. Gray enjoys spending her spare time running, reading, and looking for her next SCUBA diving hot spot!
Dr. Lindsay Miller
Dr. Miller earned her Doctorate of Veterinary Medicine from Michigan State University (don't worry, she and Dr. "OH-IO" Gray have already buried the hatchet). She brings 15 years of experience in small animal practice with a passion for dentistry. We love her strong focus and commitment to client relationships enhancing your pet's treatment and wellness.
Dr. Miller moved from Michigan to Chicago in 2007 and is currently in the process of relocating to the suburbs with her husband, 2 year-old daughter, and her dog Bella.
In her free time, Dr. Miller enjoys cheering on her MSU Spartan sports teams, golfing, checking out local breweries and enjoying time outdoors in the local forest preserves and parks.
Dr. Stephanie Fitzgerald
Dr. Fitzgerald is an Iowa native who attended the University of Northern Iowa and graduated from Iowa State University College of Veterinary Medicine in 2005.
After coming to Chicago for an internship, Dr. Fitzgerald worked as an emergency doctor for 3 years at a specialty center with another year and ½ dedicated to her passion of neurology.
Dr. Fitzgerald continues to enjoy emergency medicine and surgery all the while being focused on client education and fostering the critical human-animal bond. Did we mention her love of neurology?!
Dr. Fitzgerald has an affinity for the outdoors, working out, reading, and spending time with her husband, son and daughter. Rounding out her family are three dogs (Templeton, Mingo and Putnum) and one cat (Coal).
Administrative
Kelly Marquardt

Office Manager
Technicians
Emily B.
Samantha B.

CVT
England F.
Ricky M.
Stacey N.

CVT
Eileen S.
Kayla S.

CVT
Veterinary Assistants
Elise C.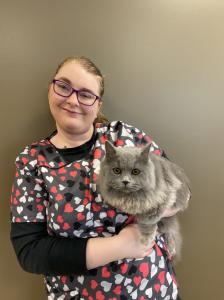 Lauren L.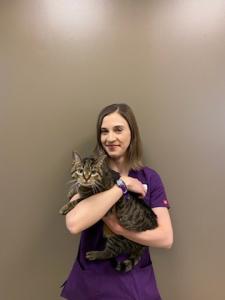 Client Service Representatives
Karen B.
Bernie H.
Jennifer L.
Jessica R.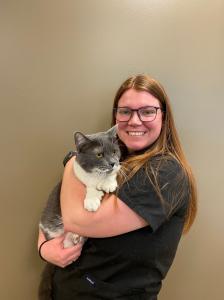 Tracey R.
Kennel
Maria M.
Jaclyn P.